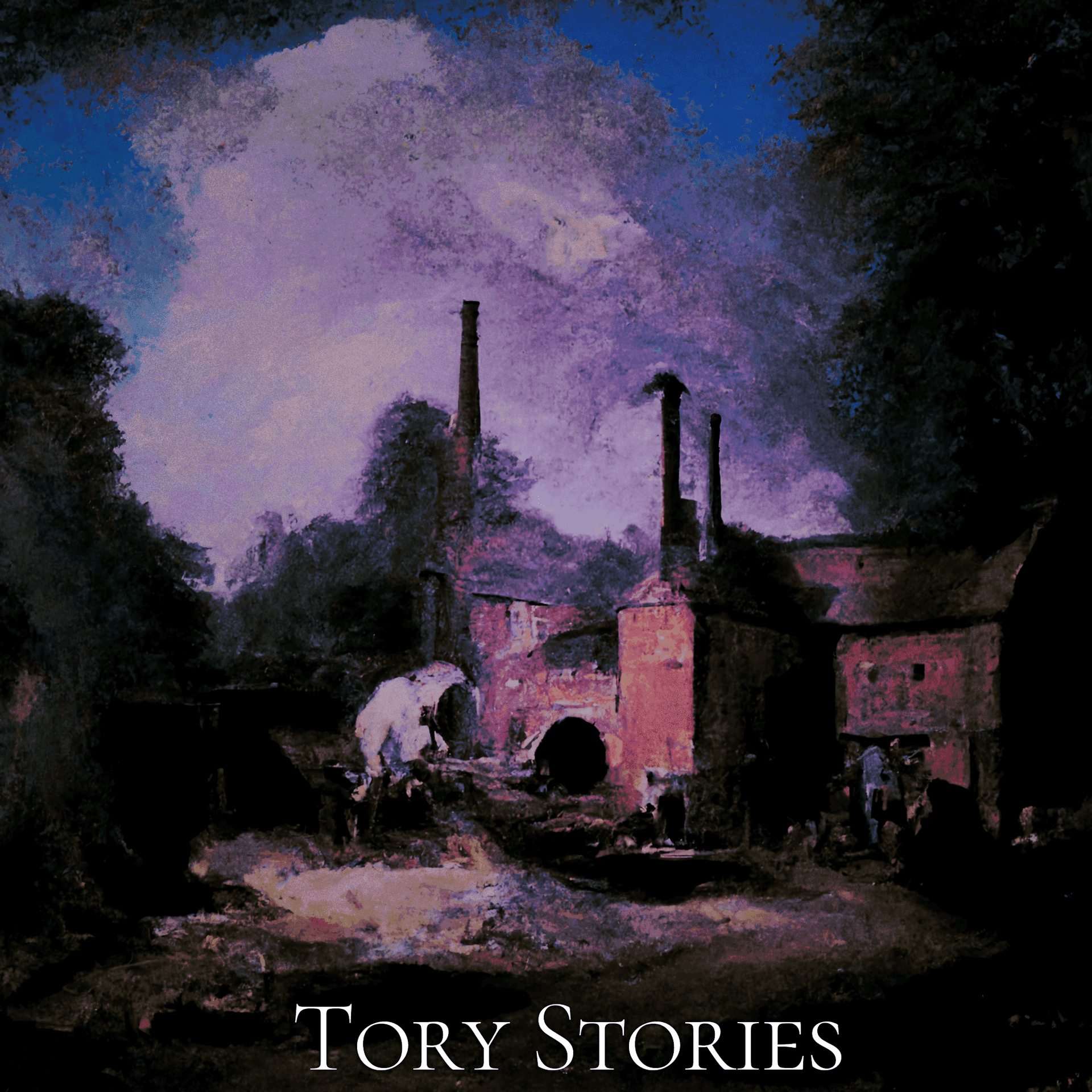 These Tory Stories podcasts aim to act as modest counters to the almost universal Whig version of history, observing history and the world from the point of view of an 18th century Tory. Their particular focus will be on the Industrial Revolution and the Tory achievements of 1660 to 1832. Tory Story 3: Canals, Country Banks, and the Tory Takeoff. The thesis of my book, "Forging Modernity" is that the Industrial Revolution resulted from unique British policies pursued over more than a century. In this podcast, I'd like to focus on the exact moment of economic takeoff: the late 1760s -- pick 1767 or 1768 if you want a particular year -- and look at how that period's Tory policies mixed with some major structural changes in the British economy that caused liftoff and changed the world forever. Let's begin by looking at the British economy in 1760. The Whigs had been in power for 46 years without a break, a period of rule since christened un-ironically, the Whig supremacy. During that period, the modest steps taken towards industrialization before 1714 had not progressed much. Sir Ambrose Crowley's Crowley Ironworks, the first real factory, is still in business in 1760 but hasn't expanded. It's currently being managed by his redoubtable daughter-in-law Theodosia after his son died in 1728. Two other early factories in the textile sector, Lombe's Mill, weaving silk in Derby and Marvel's Mill in Northampton, using an early version of the spinning frame later used by Arkwright, are in business, but not very profitable. Marvel's Mill will go out of business in 1761. Abraham Darby II has improved the coke-fired process for smelting pig iron that his father invented in 1709 and expanded the business, but he's now wrapped up in lawsuits, although others are starting to use the technology. John "Iron-Mad" Wilkinson opens his Brosely smelter in 1757. Finally, there are quite a lot of Newcomen-type steam engines around -- from its invention in 1712 there were already 110 in 1733 -- but the technology has not moved on, so their use is largely confined to pumping water out of coal mines. Their motion is very erratic so nobody has figured out a way of using them to operate machinery. There were several reasons for this lack of progress. The Whigs were London centered, favoring the cosmopolitan financial markets and neglecting the provinces. They offered lucrative get rich quick opportunities outside the hard slog of industry in slave owning sugar and tobacco plantations, the financial markets and the looting of the East India company. They suppressed working class initiative with punitive legislation and policies. They were hugely protectionist and oriented towards vested interests, preventing new entrants from entering markets. Only in the late 1750s with the Pitt and Newcastle government did the economic and political repression of the preceding 40 years begin to open somewhat. Then in October 1760, the aged George II, who like his father had insisted on only Whig governments, he died and his grandson, the young George III succeeded to the throne. George, the third had been brought up in an atmosphere of opposition to the Whigs., His tutors, Simon Earl Harcour, and James 3rd Earl Bute were both Tories. Also he'd studied Bolingbroke's "On the idea of a Patriot King", which set out what a Tory government should aim for. Tory policy while focused on "Church and King" was anti-metropolitan, open to the provinces, anti-corruption, open to the working classes and believed in a "blue water" foreign policy increasing Britain's trading potential rather than endless involvement in European wars. George II's Tory proclivities were revealed by bringing Bute into the government in March 1761, fighting an election in that year, in which Tories were able to gain seats in better proportion to their national support. Then he made Bute prime minister in May 1762, forcing out the Duke of Newcastle, who'd been in high ministerial office in 1717, and forcing out a whole host of Whig officials who'd grown lazy and arrogant in their sinecures. This was greeted with widespread rejoicingl Thomas Arne wrote an opera "Artaxerxes" to celebrate it, and as the splendid Tory MP for Oxford university, Sir Roger Newdigate said: "men must love peace, men proscribed and abused for 50 years should be presented with fools' caps if they make ladders for tyrant Whigs to mount by." The left Whiggish American colonies would become increasingly disgruntled from this change but ordinary people outside London mostly rejoiced. So much for Sir Lewis Namier's dotty theory that there were no political parties at this time! Bute's Peace of Paris in 1763 was also popular though Whigs and their hangers on in the media groused about its terms -- Canada, Florida, and India were to them a grossly inadequate return for their Whig war; they wanted the slave economy Guadalupe as well. Bute did not last long, but from now on governments would be truly mixed. Except for brief interludes in 1765 to 67 and 1782 to 83, all ministries would have a healthy admixture of Tories and some, notably those of North and later that of Pitt, would be Tory dominated. The Tory dominance was extended through the legal system by the work of Sir William Blackstone, who 1765 to 70 "Commentaries on the Law of England" codified the common law, making it available to literate people from all backgrounds. What did the Tory re-entry mean for the economy? Well, for a start, it meant better economic policy. The Tories were more free trading than the early 18th century Whigs. They believed in a global Britain oriented to worldwide trading opportunities with a "blue water" foreign policy and without significant ambitions in European power politics. For example, in 1774, they removed the restrictions on importing or even manufacturing patterned cotton fabrics that had been imposed by the Whigs in 1720. Without this change it's doubtful that Sir Richard Arkwright's textile business, new machinery and all, could have grown to the size it did and inspired the first explosive growth sector of the Industrial Revolution. Most important economically, policies no longer favored London , slave enabled economies, and the Whiggish moneyed interest financers. Instead the great mass of the country, including provincial towns, emerging manufacturing districts, and rural areas gained a voice in policy and were able to further their interests. In general, as discussed in podcast number two, the Tories of this period were followers of the Oxfordfordshire School of Economic Thought and Lord North of course, was related to one of that school's central figures, the economist Sir Dudley North. The political revolution at George the Third's accession helped kickstart the Industrial Revolution, pushing it into full swing. The most significant datum is the rate of patents filed; having averaged 5.7 patents per annum in the first half of the 18th century and ticked up to 9.2 per annum in the 1750s, they more than doubled to 20.5 per annum, in the 1760s increasing further to 29.4 per annum, in the 1770s and 47.7 per annum in the 1780s. The 1760s also saw a trebling in parliamentary enclosures. The number of Enclosure Acts from 117 in the 1750s to 393 in the 1760s, and then rising further to 640 in the 1770s dropping back thereafter. This is a sign that agriculture was also becoming much more market oriented. The Tory dominance of politics was reflected in North's ministry and later in those of Pitt and his successors down to Lord Liverpool. Charles Jenkinson later first Earl of Liverpool, the prime minister's father was also an increasingly important influence on economic policy although until 1786, he was in subordinate posts. However, this period's most important Tory in economic matters was Granville Leveson Gower, which is pronounced 'Looshun-gore' for some reason, second Earl Gower, and from 1786, first Marquess of Stafford. Gower was appointed to the top Court office of Lord Chamberlain by Bute in 1763, and in the cabinet almost continuously from 1767 to 1794. Gower has been utterly neglected by biographers over the 219 years since his death, but he played several crucial roles in the Industrial Revolution as participan, organizer and cabinet voice of sound policy for three decades. In a very 18th century arrangement, his agent Thomas Gilbert also became Tory MP for Newcastle under Lyme in 1762, sponsored "Gilbert's Act" an important measure of social legislation in 1782, and ended as chairman of the house of commons ways and means committee for 10 years under Pitt. By this means Gower retained the maximum influence over fiscal and economic policy without having to neglect his estates. At his death, Gower's estates were worth 2 million pounds, the fifth richest man in the country. His Whiggish eldest son who inherited the Duke of Bridgewater's estate, as well as his father's, thereby became the country's richest man and was created First Duke of Sutherland in 1833 without any great distinction of his own beyond being a Whig. Gower's involvement in industrialization began in 1758, when he employed a consulting engineer, James Brindley, at a retainer of a hundred pounds a year to survey a route for a canal to join the rivers Trent and Mersey. Brindley was the son of a deeply rural farmer, self taught through apprenticeship to a wheelwright in Macclesfield, Cheshire. He'd been in business for some two decades, building mills, mine pumping equipment and other projects, mostly involving water, either as a power source or as a nuisance to be removed. He worked primarily in wood rather than metal, but alas his attempt to produce a steam engine with a wood cylinder that improved on Newcomen was not successful. Naturally, he'd been involved in projects on Gower's extensive Staffordshire estates. Thus when Gower wanted to see the practicability of a Trent and Mersey canal serving the whole of Staffordshire and neighboring counties, Brindley who knew Gower's agent Thomas Gilbert well was the obvious man to hire. The economic benefits of canals for transporting heavy goods were simple. Given the roads of this period, half a century before Thomas Telford and John McAdam improved them, the maximum load for a horse drawn car was about two tons and that required two men to lever the cart out of innumerable potholes or rescue it when it ran off the road. Progress would be slow at best. However a canal narrow boat as would be used on Brindley's canals could carry 50 tons of goods and required the same horse and the same two men: one to guide the barge and the other to tame the horse. Canals were therefore potentially about 25 times as productive as road transport for heavy goods, such as coal. This was a revolutionary advantage, far more significant than the advantage brought about by most steam engine applications, other than pumping water, until about 1810. The biggest problem facing Gower and Brindley was that a Trent and Mersey canal being 93 miles long was beyond the resources of even the wealthy Gower. In any case, such a canal would benefit businesses far beyond Gower's own holdings, such as the emerging pottery manufacturers around Stroke-on-Trent. However, in 1748, Gower had married the sister of Francis Egerton, third Duke of Bridgewater. If canals were viable, they could be used to ship coal from Bridgewater's mines at Worsley to the rapidly growing city of Manchester, a much shorter canal, initially 10 miles that would bring most of its benefits to Bridgewater himself. Either Gower proposed the canal idea to Bridgewater or Bridgewater got to hear of Gower and Brindley's idea through his agent, John Gilbert, who was Thomas Gilbert's brother. In any case Bridgewater hired Brindley to work on his canal. Since Bridgewater was paying for the entire canal, it was built on a grand scale with a 15 foot width, a tunnel through the mountain at Worsley to load directly from the coal face and a much admired Barton aqueduct bridge over the river Irwell. During his work on the Bridgewater canal, Brindley invented puddling: a technique for mixing clay, sand and water to produce a waterproof bottom for canals. He demonstrated this technique messily, but successfully before a select committee of the house of commons in 1762, while promoting the extension to Bridgewater's canal. The Bridgewater canal's initial phase was built quickly at a cost of 168,000 pounds (at 16,800 per mile), and was opened in 1761, halving the price of coal in Manchester and being so profitable for Bridgewater that he immediately commissioned an extension to the Mersey at Runcorn that would allow shipping from Worsely to the port of Liverpool. The full project cost over 300,000 pounds stretching even Bridgewaters finances and forcing him to borrow from his bankers. Already before 1760, with the encouragement of Gower, Brindley had planned a grand cross canal system to link the Trent, Mersey, Severn and Thames rivers -- the Trent amd Mersey would be the most important first leg of this plan. If this could be achieved, the entire Midlands would be opened up sharply, reducing the cost of heavy goods, such as coal and enabling the products of Staffordshire's potteries, the West Midlands iron working businesses, and Birmingham's toy manufacturing to sell cost competitively, both throughout Britain and through the ports of London, Liverpool and Bristol throughout the world. Once the first section of the Bridgewater canal was opened and it's construction much admired, it was available as a demonstration project to help in financing other canals. Other Dukes took note of the Bridgewater's canal success, but so did non-ducal businessmen who realized that the cost of a local canal was well within the financial reach of local merchants and industrialists banding together while the benefits of a canal for heavy goods transport as an alternative to horse-drawn haulage over muddy roads were potentially immense. Naturally Brindley was involved in most of the early canals, particularly in the Midlands. Since they were funded by share issues and debt from local tradesman and gentry, Brindley's canals were built on a less luxurious scale than the Bridgewater with only a seven foot width and winding routes that followed the contours of the land to avoid expensive locks and even more expensive tunnels and aqueducts. As a result of Bridley's canal design, the standard canal narrow boat was 70 feet long and seven feet wide. One such businessman was Josiah Wedgwood who had opened his own Ivy Works pottery in 1759 and fired by the success of his creamware was rapidly becoming both locally prominent and quite wealthy. He sold a dinner service to Gower in 1764 and learned about the projected canals at an all day dinner with Gower, Brindley, and the two Gilberts. Wedgwood quickly realized that Trent and Mersey canal would revolutionize his business. It would make raw materials such as kaolin from new deposits in Cornwall cheaper to obtain. It would also greatly reduce breakages on China shipments to London and elsewhere. The roads around his pottery in Burslem were particularly bad since local potters dug them up for the red clay, an essentially ingredient. Wedgwood became a salesman for the canal, traveling around the Midlands and introducing other businessmen to the idea notably Matthew Boulton and through him other members of the embryonic Birmingham Lunar society in fully existence from 1765, but coming together for some years before then. With Midland's businessmen energized, not one, but two canals were authorized by the same act of parliament in May, 1766. Gower and Thomas Gilbert were sponsors of this legislation, which was steered through the weak Whig administration of the Marquess of Rockingham who doubtless hoped to get Gower's support by allowing through his favorite project. In the event the following administration of William Pitt Earl of Chatham and Augustus Fitzroy third duke of Grafton admitted Gower to the nine man cabinet as lord president of the council in December, 1767, making the cabinet distinctly more Tory by doing so. The two canals were the Trent and Mersey canal and the Staffordshire and Worcestershire canal, both surveyed by Brindley, which ran from the Severm to connect with the Trent and Mersey. By these two canals, three quarters of Brindley's "Grand Cross" scheme was fulfilled with the Trent, Mersey, and Severn rivers being connected. A share issue for the Staffordshire and Worcestershire raised a hundred thousand pounds of equity of which 70,000 was paid up immediately. The canal was finished in 1771 and opened traffic in 1772. It was 46 miles long linking the river Severn at Stourport with the Trent and Mersey canal at Haywood Junction. It followed natural contours as far as possible minimizing artifacts, but making it longer than necessary. Its cost per mile was 2,168 pounds, the lowest of the early canals. The canal would carry coal from nearby mines to the iron works of John Wilkinson and Abraham Darby III and pottery from Staffordshire to Bristol's international shipping trade. It was an immediate financial success and in 1828 paid a dividend of 40 pounds on each hundred pound share for which 140 was eventually paid up, the shares selling at 800 pounds per share. When the Trent and Mersey canal was authorized in 1766, 66,900 of the authorized share capital of 130,000 had been subscribed. By further acts of parliament another 166,000 pounds was borrowed by the canal as it ran into cost overruns, making a total debt and equity capital of 296,000. Josiah Wedgwood cut the first sod of soil at the massive celebration on 26th of July, 1766. The canal was 93 miles long from Preston Brook where it meets the Bridgewater canal to the river Trent at Derwent Mouth in Derbyshire. By 1771, when Wedgwood Etruria factory opened, most of the the canal had been built to Preston Brook as had the Eastern section from Burslem to the Trent. The remaining obstacle was Kidsgrove hill near Stoke-on-Trent under which the canal drove the 2,880 yard Harecastle Tunnel through which boatman propelled the boats by foot lying on their backs. The canal's economics were helped by Kidsgrove Hill proving to consist largely of coal, which was mined by the Golden Hill colliery, partly owned by Brindley. Since Kidsgrove stood at the canal's high point, the steam engine pumping out the mine supplied the necessary water to the canal. Even with this tunnel, the canal's cost was a modest 3,213 pounds per mile. The full canal was opened in 1777; Like the Staffordshire and Worcestershire, the Trent and Mersey canal was immediately financially successful, paying off its bonded debt and at the 1825 peak sold for 4,000 pounds per 200 pound share paying an annual dividend of 150 pounds. The third spectacularly successful canal was the Birmingham Canal authorized by parliament in February, 1768 with sponsorship from Matthew Boulton and the Lunar society, to run from Birmingham to the Staffordshire and Worcestershire Canal, near Wolverhampton, on a Brindley plan which was largely level but meandering with branches to Ocker Hill and Wednesbury where there were coalmines. 500 shares of 140 pounds were subscribed for a total of 70,000. The cost over run to an eventual cost of 112,400 pounds or 4,091 pounds per mile was covered by short term loans and subventions for running profits. The first building was to Wednesbury, where upon as in Manchester a few years earlier, the price of household coal in Birmingham halved overnight; the full canal of nearly 23 miles was completed in 1772, just before Brindley's death. There were two separate terminals in Birmingham, as well as a branch to Boulton's Soho manufactory. The Birmingham canal borrowed another 121,400 pounds from 1784 to 98 to construct the Birmingham and Fazeley canal, which connected with the Coventry canal. This money was repaid between 1800 and 1819. With this additional leverage and new asset, the canal's 140 pound shares were already selling at 900 in 1792 and were divided into eighths; by 1828 an eighth share was selling for 300 pounds while dividends were a hundred percent on the original 140 pound shares. Four other canals were authorized by parliament during this initial burst between 1766 and 1770, but their completion was delayed in all four cases by the American war, so they were less spectacularly successful. Two of them were outside the Midlands so not part of Brindley's grand cross, the Forth and Clyde canal with no Brindley involvement was authorized in 1768 with capital of 200,000 pounds; its 35 miles between the two Firths was not completed until 1790 and it was only modestly successful. The other non Midlands canal, the Leeds and Liverpool canal was the longest in Britain, initially 116 miles along a Brindley proposed route. Authorized in May, 1770 it was delayed by not one but two wars so not completed until 1816. However, despite an astronomical final cost of 1.2 million pounds and multiple fundraisings, it was eventually successfu, its hundred pound shares selling at 470 by 1829. The Leeds and Liverpool canal proved central in supplying coal to the Lancashire textile industry once that industry became steam powered. The other two grand cross canals were the Coventry canal and the Oxford canal. The Conventry canal authorized in 1768 runs 38 miles south from the Trent and Mersey at Fradley junction to Coventry, taking in the Atherstone Colliery as you would. It was underfunded and Brindley was fired in 1771 since his construction standards were too high. It then ran out of money and was not completed until 1790. However its shares were selling at 610 pounds per hundred by 1834. Finally, the Oxford canal authorized in 1769, sponsored by its chairman, the splendid Sir Roger Newdigate runs 78 miles from Hawkesbury Lock on the Coventry canal to the Thames at Oxford, thus completing Brindley's grand cross vision by connecting the system to the Thames. Again, designed by Brindley it was plagued by cost overruns and only competed in 1790, but even in that year Sir Roger was getting a dividend return of a hundred percent on his initial investment, which return at his death in 1806 funded Oxford university's Newdigate Prize for English Verse Composition! The canal's spectacular profitability lessened after 1805, when the Grand Junction canal provided a broader, more direct link to London, but the shares were still trading at 670 per hundred in 1829. Brindley's last years were busy ones galloping on his horse, across the Midlands from canal to canal surveying the progress of works on each one. It probably hastened his death in 1772 at the age of only 56. Nevertheless, even by his death, he could be confident that his vision will be fulfilled and with the first two canals already opened the gigantic benefits from his grand cross plan were already apparent. There were three great surges in canal building: this period of roughly 1766 to 77 before the American war, the late 1780s before the Napoleonic wars and 1816 to 25 after the Napoleonic wars ended. Finance was expensive and difficult to obtain during war time. Of the three surges this first one saw the highest profitability and the greatest economic effect since the best projects were attempted first. The second surge authorized in the late 1780s, mostly ran into cost overruns after a 22 year war started in 1793; some were finished only after debilitating wartime capital raising while others were abandoned halfway. Finally, the 1816 to 25 surge of canal building suffered from poor economic returns because its canals economic lives were artificially curtailed by the coming of the railways. This first surge of canal building was thus by far the most economically important with the most important and profitable canals, all receiving parliamentary authorization between 1766 and 1770. Their exceptional returns demonstrate their direct economic importance though their multiplier effect on the economy as a whole was also huge. By their effect on the economy's logistics, for example halving the price of coal in Birmingham and Manchester, the canals vastly improved the economics of the early coal guzzling steam engines. Thereby the Brindley canals set off an acceleration in activity that became the Industrial Revolution. James Watts's advances in steam engine technology were just part of this. James Brindley has a better claim than Watt to be called the Industrial Revolution's father. The other vital catalyst for the Industrial Revolution that also came to fruition in the 1760s was the emergence of country banks. Banking services in 17th century England had grown out of two sources: scriveners (specialists in creating written documents with a Guild established in 1373) and goldsmiths. Scrivener bankers, of whom the most famous was Clayton and Morris, had documents expertise so specialized in providing mortgages for country gentry for which they could undertake the necessary record searches and keeping cash on their behalf. The original scriveners had provided this service for sheep drovers, bringing their flocks to London and selling them there. Goldsmith bankers made money from providing gold and silver plate to the very rich and the Royal court and dealing in foreign trade instruments. They became specialists in government bond markets when those markets appeared in the 1690s. This was initially an excessively lucrative business that caused them to grow at the expense of Scrivener bankers. During the Whig supremacy, almost all banking was carried out in London with city bankers specializing in the markets and west end bankers specializing in what we now call private banking for the very rich. By the Bank of England Act 1708, no bank other than the Bank of England was allowed to have more than six partners. This didn't matter to the Goldsmith bankers who became very rich and snooty like the merchant banks of 1914. However, there was a huge void in providing financial services to the gentry tradesmen and other ordinary people outside London. After 1750, this void began to be filled by the creation of local country banks. One such country bank, Smiths of Nottingham was founded in 1688, but there don't appear to have been any others before 1750. These country banks had a business mix like the old Scrivener bankers but were concentrated in one provincial town, their headquarters. They were typically set up by local attorneys with partners drawn from the most prosperous local tradesmen and had modest capital normally below 10,000 pounds. Country banks' legal setup affected how they did business. They could not grow much because their capital was so limited and until the 1826 crisis each year's profits were normally paid out as dividends to partners. They did not have many posh, wealthy landowners as partners because of unlimited liability. The unhappy experience of two Scottish Dukes among 114 partners of the Ayr bank (there was no partner limitation in Scotland) who were pursued until the 1820s by creditors from its collapse in 1772) showed the downside of being the richest partner in a bank that went wrong. They did no long term lending because the Usury Act of 1714 prevented them from charging interest of more than five percent -- no junk bond market therefore. However, unlike the American local banks, after the 1836 de-chartering of the second bank of the United States, the country banks' bank notes normally traded at par, even outside their region. This was achieved by each country bank employing a London correspondent who acted as a clearing house for its notes of banks from other regions. Overall, as well as providing services to private individuals and institutions, country banks provided a wide range of services to nascent industrialization which would've been greatly hindered by their absence. First, there was the simple matter of introductions to financing sources. The banks generally didn't provide venture capital directly, but their partners and wealthy customers might. Discounting bills of exchange and thereby providing liquidity was often the main introductory service, but paying wages to workers in local bank notes and providing receivables financing through discounting were all common. In addition, the country banker might provide inventory and other financing through overdraft facilities to the businesses owners generally secured by promisary notes often for double the amount of the loan facility or secured by mortgages, which were highly illiquid but represented a claim on an asset of real value. In one case, Praed and company of Truro, country bankers came to specialize in Watt steam engines pumping out Cornish tin and copper mines -- an early example of effective equipment financing with relationships, with both the mines and Boulton and Watt. Finally country banks provided executor and trustee services when a proprietor died, facilitating the continuance of the business after his death. Knocking out the fly by night operations, there were by 1780 a couple of hundred solid country banks all run independently by different partner groups. Since there was no centralized credit training, each country bank did business in its own way with its own specialties. Providing an entrepreneur was not so eccentric as to setup his business where there was no local expertise, there were probably half a dozen country banks he could talk to within a day's horse ride, each of them doing business differently. Even as a working man, he could probably get an introduction to one of them or more if he needed it. These people were regarded as superior tradesman, not socially grand like the later London merchant bankers. As one example, Richard Arkwright with limited education and a background as a hairdresser and wigmaker, got considerable financial help from Wright and Co of Nottingham, a country bank founded in 1761. The result was that in the country banking system, many entrepreneurs obtained finance and a vast range of small businesses were able to discount their receivables, which is what most of them needed. No group think was possible, no fashionable ideas quelled the eccentric, the bankers were not fashionable. If an idea could work and could be begun on a modest scale, the chances were that it could be financed. The localism and pluralism of England's country banking system made it a major contributor to the Industrial Revolution, which has not been sufficiently recognized. If banking had still been concentrated in London as before 1760, it's most unlikely that the many small scale early industrialists in the provinces could have obtained finance. The 1760s also saw the emergence of five important industrialists whose careers, immensely assisted by the canals and country banks, launched Britain fully into industrialization in all its facets. They were: Josiah Wedgwood. The potter in business from 1759 who invented modern marketing techniques and for whom the Trent and Mersey canal was essential. His Etruria Works was built beside it's route. John Roebuck, founder of the Carron Iron Works in 1759 and he owned a colliery; patron of James Watt in the 1760s to attempt to pump out the colliery. Carron was a prime instigator of the Forth and Clyde Canal. John Wilkinson. Ironmaster from 1757 and inventor of the boring machine for steam engine cylinders in 1774. Early investor in the Staffordshire and Worcestershire canal; later founded several country banks and issued his own copper coinage. Richard Arkwright, patented his spinning frame in 1769. His early efforts funded by Wright and Company. He was the main financier of the 14 and a half mile Cromford canal to serve his Cromford mill. His son founded a country bank. Matthew Bolton substantial Birmingham manufacturer from 1757, sponsor of the Birmingham canal, which had a branch to his Soho Manufactory. Later partnered with James Watt whose steam engines required cheap coal supplied by the canals. Overall, the sudden appearance of these industrial entrepreneurs indicates that Walter Rostow's takeoff of the Industrial Revolution occurred not in the 1780s as Rostow postulated, but nearly two decades earlier, largely sparked by the first canal boom and the country banks emergence. Whether the political transition of 1760 directly catalyzed industrialization can be questioned. More likely, it had been latent for half a century before this, had begun to appear in Queen Anne's time, but had been dampened by the takeover of the authoritarian and London centered Whigs in 1714. But there's no question the pluralistic Tory emergence assisted it. And key Tories like Gower and Newdigate rolled up their sleeves and got directly involved. There are two lessons for today to be learned from this podcast. First, infrastructure like Brindley's canals can be crucial to economic growth, but only if it revolutionizes existing economic patterns as Brindley's canals did increasing heavy goods transportation capacity 25 fold. Spending a hundred billion pounds on a train that saves 20 minutes between London and Manchester is a complete waste of money. Building a bridge between Galloway and Ulster, connecting two parts of the same country that have never been connected before, may on the other hand, well be worthwhile. The second lesson is that innovation comes from small units, not large ones and needs a financial system geared to this reality. A financial system of beheamoth banks with a hundred thousand employees is a nominally private sector version of the old Soviet Gosplan. It will never finance anything new and useful. Nor will a system of hedge funds and private equity funds where they all follow the same fashionable and probably incorrect nostrums. We need a truly diverse financial system where the decision makers are not fashionable, but are local and are available for any ordinary person to contact. In today's world, that's a tough ask. It's perhaps the toughest to recover of all the Industrial Revolution's preconditions of growth, but it is worth making the attempt. Finally, I hope this podcast has convinced you that the emergence of the Industrial Revolution in Britain was indeed a Tory Story. Thank you very much for listening. That is the end of Tory Stories podcast number three.
Canals, Country Banks and the Tory Takeoff
Episode 3
September 22, 2022
The Industrial Revolution's economic takeoff and how that period's Tory policies mixed with some major structural changes in the British economy caused lift-off and changed the world forever.
Intro/outro music:
Beethoven's Symphony No. 7 in A major, Op. 92 - Finale.
Cover image:
Ironworks, Style of Thomas Gainsborough by Midjourney
Episode available at:
© 2022 Martin Hutchinson